World
We support the work of God's Church around the world
Riverside has a long history of supporting the wider work of the church through the United Church of Canada's Mission and Service Fund as well as through specific projects, including refugee sponsorship, education and advocacy.
Partnership with Providence Methodist Church, Jamaica
This partnership has been in place for several years.  An annual Jamaica Night in October raises funds for a Nursing Outreach Program and for a Basic School in Dallas, Jamaica.  Five members of Riverside visited Kingston in Feb 2015 and a deepening of the partnership will continue to emerge.  More information here.
Grandmothers to Grandmothers
Riverside Grannies are 1 of 240 groups across Canada raising funds & awareness for the Stephen Lewis Foundation to support grassroots projects in 15 countries in Sub- Saharan Africa by providing care and support for woman, orphaned children, grandmothers and those living with HIV/AIDS.  RUC contact: Wanda Maurais dw.maurais@sympatico.ca   More here.
Amnesty International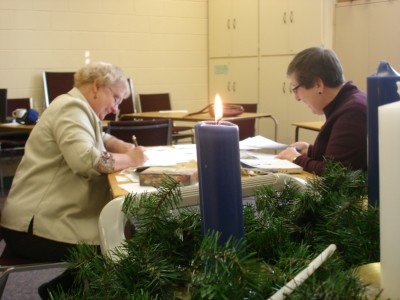 We, at Riverside United, are part of Amnesty International's Urgent Action Network. We receive cases about every 3 weeks and are asked to contact authorities quickly in the target countries and their ambassadors to Canada via email, fax or letter. We do not meet as a group; rather, the cases are passed on to the group's members via email.
The Amnesty writing group writes on behalf of people whose human rights are being abused including prisoners of conscience, executions, killings of human rights workers, attacks against environmental defenders, use of chemical weapons, imprisonment and execution of LGBTQ people, sexual assault of women and girls in refugee camps, hunger strikes, first nations treaties.
We hold an Annual Write-for-Rights campaign, held on the Saturday closest to December 10, Human Rights Day.
We do receive some good news during the year involving the release of prisoners of conscience or human rights workers receiving protection. Amnesty believes that we have a positive influence in about 1/3 of the cases – which makes a difference to those people.
We can always use more letter writers.  If you are interested in our activities, please contact us at  pn.mcleod@sympatico.ca  See also www.amnesty.ca