Activities
Pastoral Care
The Pastoral Care Team assists our Minister to meet the needs of those who are ill, bereaved or in other difficult circumstances. We provide visitation, cater for funeral receptions, arrange transportation to church activities and medical appointments, assist with special services like Quiet Christmas and Communion and Tea for frail members of our congregation.
If you require pastoral care or would like to help the Team please call the Church Office.
Click here for more information
Special Interests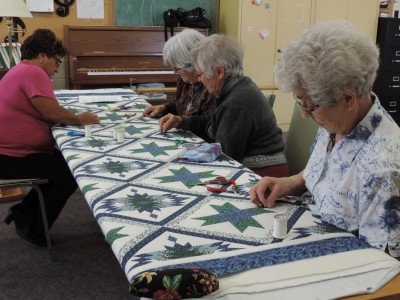 The Book Nook: Our portable holds hundreds of previously enjoyed books at bargain prices. It is open when we have special events like our bazaar and garage sale, and on some Saturdays throughout the year. Watch our home page and the sign in front of the church for those dates.
Quilting and Craft Group:  Meets every Thursday from 1:00-3:00 p.m. for quilting, needlework, crafts and conversation.
Riverside Churches Seniors Group: Meets Monday and Friday, 1:00 – 4:00 for cards and conversation For information contact either church office RUC:  613 733-7735  COR:  613 733-8185)
The Merry Songsters:  Led by Chris White, this is a "just-for-fun" seniors singing group that has a delightful repertoire of folk, pop and country songs that are easy and enjoyable to sing. You are welcome to sit & listen … or join in if you like! There is no audition and no fee to participate. Tuesdays, 12:30 – 2:30.
Experimental Singing Project:  Is a community group that loves the beauty and power of singing together. The group gets together at RUC on Wednesday evenings from 7:00 to 9:00 pm to sing folk songs, pop songs, country songs and show tunes. Chris White founded the group in 2015 as an "experiment" that looks for ways to bring songs to life in an atmosphere of cooperation and fun.